The Greatest Football Managers of All Time
As any committed Football Manager player will already know, guiding a team to glory isn't as easy it may appear. Indeed, according to a recent report by the League Managers Association, the average spell in charge for an English coach these days is a paltry 1.31 years. Heck, even transforming an unglamorous mid-table side into Premier League champions can no longer guarantee more than a few months' breathing space. But there are some who make navigating the transfer market, dealing with multi-millionaires' precious egos and delivering inspiring half-time team talks look virtually effortless. Here's a look at 20 of the all-time greatest.
20. Jock Stein
Jock Stein began his career in humble circumstances, playing for semi-professional side Albion Rovers part-time during his downtime as a coal miner. But he ended it, albeit in tragic circumstances, as a national hero. After saving both Dunfermline and Hibernian from relegation, Stein enjoyed an iconic 13-year reign at Celtic where he guided them to ten titles (nine consecutive), 14 domestic cups and a famous 1967 European Cup final win over Inter Milan. Stein also took the national side to the 1982 World Cup and may have gotten them to a second had he not suffered a fatal heart attack just moments after Scotland secured a qualification play-off in 1985.
19. Brian Clough
"I wouldn't say I was the best manager in the business. But I was in the top one." You could always rely on the charismatic Brian Clough for a great one-liner. You could also rely on him to transform a struggling second-tier club into top-flight champions. The man dubbed "the greatest manager England never had" achieved such an incredible feat with both Derby County and Nottingham Forest in the 1970s. Famously assisted by long-time partner Peter Taylor, he also spurred the latter to two consecutive European Cup wins, an astonishing double whammy considering Forest had previously never even qualified for a UEFA competition before. Even a disastrous 44-day spell at Leeds United – as dramatized in the brilliant The Damned United – couldn't detract from his eccentric genius.
18. Ottmar Hitzfeld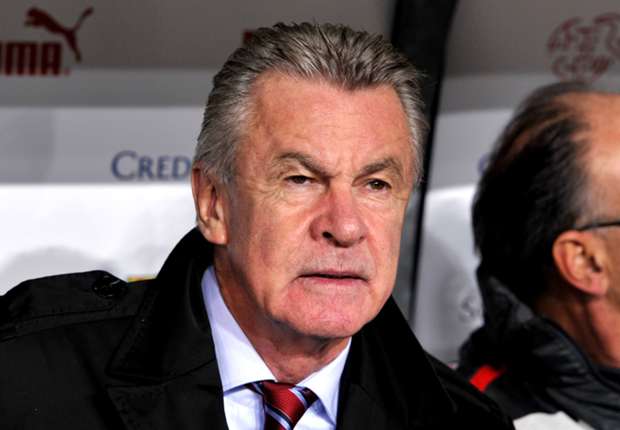 Ottmar Hitzfeld was such a worshipped figure during his managerial reign in the Bundesliga he was nicknamed after the German word for God (Gott). The former Stuttgart forward inspired such devotion by guiding not just one but two of its teams to Champions League success, first with Borussia Dortmund in 1997 and then with Bayern Munich in 2001. Hitzfeld also won the league title twice with the former and an incredible five times with the latter (with whom he enjoyed two successful stints). But Hitzfeld's coaching career was actually bookended in Switzerland, beginning with similarly victorious spells in charge of FC Aarau and Grasshopper, and finishing with two mixed World Cup Finals campaigns as the country's national coach.
17. Herbert Chapman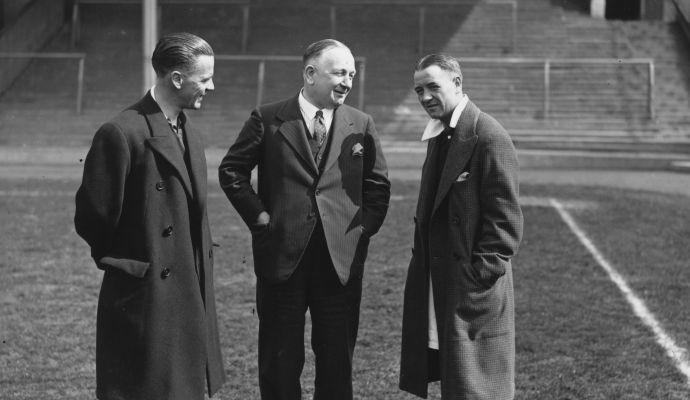 While not the most familiar name on the list, inter-war coach Herbert Chapman's influence on the modern game is unparalleled. A keen innovator, he helped pioneer the use of floodlighting, numbered shirts and European club competitions, while also implementing a wide range of techniques and tactics that unarguably changed English soccer forever. His early managerial career may have been mired in controversy – he was initially barred from the game for his alleged involvement in the illegal payments scandal that led to Leeds City's dissolvement. But later cleared of any wrongdoing, Chapman returned to the sport to transform rugby league town Huddersfield into an unlikely force, spearheading them to an FA Cup and two consecutive league titles. Incredibly, he then achieved the exact same feat when he moved on to an underperforming Arsenal, breaking the North and Midlands' top-flight dominance in the process. Only his sudden death in 1934 at the age of just 55 stopped him from revolutionising the game even further.
16. Bela Guttmann
Seasoned traveller Bela Guttmann's managerial powers were so strong that even in death he's presumed by some to still be influencing the game. The Hungarian famously put a curse on Benfica when despite leading the Portuguese team to two successive European Cups he was denied the reward of a pay rise. Since his subsequent resignation, Benfica has failed to win a major European trophy, losing eight finals – most recently their 2014 Europa League encounter against Sevilla. That's not the only superstitious part of Guttmann's story. Renowned for his 'the third season is fatal' quote, the radical coach never spent more than two years in one job, which explains how he managed an unprecedented 23 different clubs in 12 different countries during his five-decade career. League titles in Portugal, Brazil and his homeland, a pioneering role in the 4-2-4 formation and his mentoring of the legendary Eusebio are just a handful of the feats which resulted from such a nomadic approach.
15. Marcello Lippi
Marcello Lippi may be something of a one-club wonder – he managed nearly a dozen other Italian teams without picking up any major silverware. But his reign at Juventus was so commanding that it would be foolish to ignore his achievements here. Lippi won five Serie A titles, a Coppa Italia and a  Champions League (also finishing runners-up three times) during two separate triumphant spells with the club before graduating to the position of Italy's national coach. There, he achieved his 'most satisfying moment' when he guided the country to their first World Cup in 24 years at Germany 2006. An attempt to retain the trophy ended relatively dismally, but Lippi soon restored his reputation when he emigrated to China, winning the Super League three times and the AFC Champions League with Guangzhou Evergrande.
14. Giovanni Trapattoni
In contrast, one of Lippi's predecessors struggled to make an impact at international level but enjoyed success as a club coach with numerous teams. Indeed, Giovanni Trapattoni not only guided Juventus to six Serie A championships, two Coppa Italias and all three major European Cups, he also won league titles with Inter Milan, Bayern Munich, Benfica and Red Bull Salzburg. His four-year spell in charge of Italy was something of a disappointment – the country exited early at both the 2002 World Cup and Euro 2004. But he later redeemed himself by taking the Republic of Ireland to their first Euros in nearly a quarter of a century. And had it not been for Thierry Henry's glaring double handball, he may well have taken them to only their fourth ever World Cup, too.
13. Carlo Ancelotti